Drivewyze
The Drivewyze features in the Transflo Mobile+ app allow drivers who are certified in the Drivewyze system to legally bypass weigh stations.
Drivewyze PreClear service provides 2-mile and 1-mile visual and audio alerts as you approach over 1200 weigh stations and inspection sites as a safety service.

If you are authorized to pass a station, you receive one (1) of three (3) bypass notifications in your Transflo mobile app:

After you bypass a station, Drivewyze automatically resets and awaits the next site.
In addition, drivers can work with their fleet managers to self-provision additional Drivewyze features such as Drivewyze Safety Plus (Drivewyze Safety+). Geotab integration with Drivewyze is also planned for 2024. To learn more, visit https://drivewyze.com/transflo-guide.

Tip: Transflo T-Series ELD users do not need to start Drivewyze; it activates automatically as part of the ELD system.
---

Start Drivewyze
If the Drivewyze feature appears on your mobile device but is currently OFF, follow these steps to turn it ON:

Tip: Drivewyze is available as a subscription service paid by you or your carrier. Your administrator must enable Drivewyze for your fleet and configure the feature for use in the Transflo Mobile+ app on your mobile device.
On the Dashboard, tap Main Menu and then tap the Drivewyze menu item or tile. (A green border indicates that it is currently active. No border color indicates it is OFF.)

On a tablet, tap Drivewyze on the Dashboard. (A green bar indicates the feature is ON. No bar indicates it is OFF, as seen in this example.)

On the Vehicle Select screen, in the list of available vehicles, tap the vehicle that you would like to use.

(Optional) In a long list of vehicles you can enter a vehicle number to search for it.

(Optional) To select a different vehicle, tap X Remove and select a new vehicle.

To start using the Drivewyze app with the vehicle you selected, tap the Start Drivewyze button.

On the Alert confirmation screen, select one of the following options:

Start Drivewyze

Select a Different Truck

Cancel

After you select your vehicle and tap Start Drivewyze, the Congrats! You are ready to go... message appears. To go back to the Dashboard, tap Go Back to Home.

You are now ready to drive toward the next station, view the optional 2-mile and 1-mile notifications, and bypass the station unless you receive other instructions.

Show My Weigh Station Bypass History
After starting Drivewyze, you can view your last bypass.
After starting Drivewyze, you see the feature is ON.

If it shows OFF, follow the steps above to start Drivewyze to turn it on.

On the dashboard, tap Main Menu and then tap the Drivewyze menu item or tile. (A green border indicates that it is currently ON.)

On a tablet, tap the Drivewyze tile. (A green bar indicates the feature is ON.)

(Optional) The following options are also available on the Active Services screen:
| | |
| --- | --- |
| | Reminder: Depending on possible product configuration changes for your specific fleet, it is possible that user interface labels, buttons, links, dials, tiles, icons, colors, logos, and placement on the screen can change. Features can also be hidden from your view based on permissions. In the documentation, we cover a default setup with screen examples that are generally similar for smart phones and tablets running either iOS or Android OS. Adjust certain steps, if needed, to reflect your actual device and product configuration. |

New!

Drivewyze Safety Plus
Drivers can work with their fleet managers to self-provision additional Drivewyze features such as Drivewyze Safety Plus. As a driver, when you approach potentially hazardous locations including high-risk curves (high rollover risk), low bridges, steep grades, or high collision zones, Drivewyze Safety+ notifications function as your own personal in-cab virtual road signs to alert you with critical information about the roadway ahead, giving you more time to respond safely.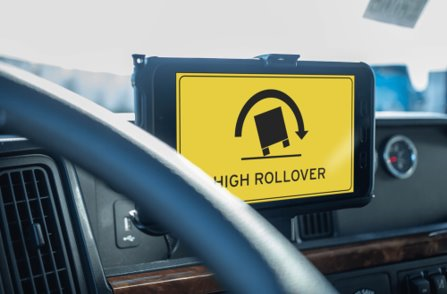 Alerts help notify drivers of upcoming zones that are known to be speed traps, target enforcement zones, or hot spots for speeding citations. The bright in-cab alerts help remind drivers to slow their speeds. The alerts to slow down in high citation areas are currently available in 10 states. These notifications are bundled into Drivewyze Safety+, a service that combines speed citation areas with other driver safety notifications such as an upcoming low bridge, mountain corridor (alerts that inform drivers to use low gears as well as alerting them to upcoming runaway truck ramps), high rollover areas, parking availability (in select states), and more.
With Safety+, fleets can create custom zones for areas they identify as high-risk areas for drivers (such as problematic areas for speeding citations) by geofencing those locations to alert drivers passing through those zones. Custom zones can be created to deliver all safety notifications included in Safety+.
Prior to launching Safety+ in 2020, Drivewyze tested the impact of the alerts with several fleets and found a
27% reduction in speeding
events from drivers going 5+ miles over the speed limit.
Drivewyze Safety+ helps drivers by providing dynamic parking alerts in select states. In-cab messaging gives the actual number of parking spots available in real-time, so drivers can make the decision to continue on to the rest area, or look for other alternative parking.
Even in the presence of physical road signs, Drivewyze Safety notifications have helped fleets decrease speeding incidents and encourage safer driving habits. When you include Drivewyze Safety+ with your Transflo Mobile+ subscription, you and other drivers get the following benefits:
Reduce driver stress on unfamiliar roads.​

Access to an extensive library of in-cab safety notifications.

Individual and fleet-wide reporting for impact assessment.

Identify top-performing drivers and areas requiring further training. ​

Customizable, location-based alerts for safety protocols or location guidance.
In a two-year study with a major trucking company that involved thousands of trucks, Drivewyze in-cab alerts were shown to
reduce over-speeding events by 17%
in route segments located immediately before key high rollover locations.
Available Drivewyze Safety+ Options
Blizzard Ahead

Watch Your Speed

Use Low Gear

High Theft Area

Traffic Congestion Ahead

Rest Area Open (available parking spaces)

Low Bridge Ahead
To learn more, visit https://drivewyze.com/partners/transflo/.
---

View a demonstration of these steps in one or more Transflo videos:
---
Drivewyze Sales and Support:
Drivewyze Inc.
5425 Calgary Trail NW
Edmonton, AB T6H 4J9
1-888-988-1590 (Weekdays 8:00 AM to 9:00 PM Eastern Time)
Use of this product is subject to the EULA available at drivewyze.com.
---